Indian cricketer Sachin Tendulkar (second from right) is the only player to complete more than 30,000 runs in international cricket. Photo shows him making a shot to reach 14,000 runs in Tests. He was batting against Australia in 2010.




Unlike those of most sports, cricket playing fields can vary significantly in size and shape. While the dimensions of the pitch and infield are specifically regulated, the Laws of Cricket do not specify the size or shape of the field. The field boundaries are sometimes painted and sometimes marked by a rope. Pitch and outfield variations can have a significant effect on how balls behave and are fielded as well as on batting. Pitches vary in consistency, and thus in the amount of bounce, spin, and seam movement available to the bowler. Hard pitches are usually good to bat on because of high but even bounce. Dry pitches tend to deteriorate for batting as cracks often appear, and when this happens to the pitch, spinners can play a key role. Damp pitches, or pitches covered in grass (termed "green" pitches), allow good fast bowlers to extract extra bounce. Such pitches tend to offer help to fast bowlers throughout the match, but become better for batting as the game goes on. While players of other outdoor sports deal with similar variations of field surface and stadium covering, the size and shape of their fields are much more standardised. Other local factors, such as altitude and climate, can also significantly affect play. These physical variations create a distinctive set of playing conditions at each ground. A given ground may acquire a reputation as batsman friendly or bowler friendly if one or the other discipline notably benefits from its unique mix of elements. The absence of a standardised field affects not only how particular games play out, but the nature of team makeup and players' statistical records.




Although the term "Test match" was not coined until much later, Test cricket is deemed to have begun with two matches between Australia and England in the 1876–77 Australian season. Subsequently, eight other national teams have achieved Test status: South Africa , West Indies , New Zealand , India , Pakistan , Sri Lanka , Zimbabwe and Bangladesh . Zimbabwe suspended its Test status in 2006 due to its inability to compete against other Test teams, and returned in 2011.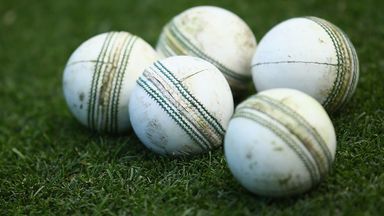 When the batsmen have finished attempting their runs the ball is dead, and is returned to the bowler to be bowled again. The ball becomes live when he starts his run up. The bowler continues to bowl toward the same wicket, regardless of any switch of the batsmen's positions.

Each wicket on the pitch consists of three wooden stumps placed vertically, in line with one another. They are surmounted by two wooden crosspieces called bails; the total height of the wicket including bails is 28.5 inches (720 mm) and the combined width of the three stumps, including small gaps between them is 9 inches (230 mm).

Four lines, known as creases, are painted onto the pitch around the wicket areas to define the batsman's "safe territory" and to determine the limit of the bowler's approach. These are called the "popping" (or batting) crease, the bowling crease and two "return" creases.

i) A used white ball. White balls are mainly used in limited overs cricket, especially in matches played at night, under floodlights (left). ii) A used red ball, Red balls are used in Test cricket and first-class cricket and some other forms of cricket (right).

A batsman is not required to play a shot; in the event that he believes the ball will not hit his wicket and there is no opportunity to score runs, he can "leave" the ball to go through to the wicketkeeper. Equally, he does not have to attempt a run when he hits the ball with his bat. He can deliberately use his leg to block the ball and thereby "pad it away", but this is risky because of the leg before wicket rule.

If the team that bats last is all out having scored fewer runs than their opponents, the team is said to have "lost by n runs" (where n is the difference between the number of runs scored by the teams). If the team that bats last scores enough runs to win, it is said to have "won by n wickets", where n is the number of wickets left to fall. For instance a team that passes its opponents' score having only lost six wickets would have won "by four wickets".

Although cricket's origins are uncertain, it is first recorded in south-east England in the 16th century. It spread globally with the expansion of the British Empire, leading to the first international matches in the mid-19th century. ICC, the game's governing body, has over 100 members, ten of which are full members who play Test cricket. The sport is followed primarily in Australasia, Britain, the Indian subcontinent, southern Africa and the West Indies. Women's cricket, which is organised and played separately, has also achieved international standard.

The introduction of scoreboards revolutionised cricket by allowing spectators to keep track of the day's play. In 1848, Fred Lillywhite used a portable printing press at grounds to print updated scorecards. In 1858, the Kennington Oval introduced the first mobile scorebox, "a house on rollers with figures for telegraphing on each side". In 1881, the Melbourne Cricket Ground erected the first cricket scoreboard. The scoreboard, located at the western end of the ground, gave the batsman's name and method of dismissal.

The stumps are placed in line on the bowling creases and so these creases must be 22 yards (20 m) apart. A bowling crease is 8 feet 8 inches (2.64 m) long, with the middle stump placed dead centre. The popping crease has the same length, is parallel to the bowling crease and is 4 feet (1.2 m) in front of the wicket. The return creases are perpendicular to the other two; they are adjoined to the ends of the popping crease and are drawn through the ends of the bowling crease to a length of at least 8 feet (2.4 m).

Club cricket is a mainly amateur, but still formal, form of the sport of cricket, usually involving teams playing in competitions at weekends or in the evening. There is a great deal of variation in game format although the Laws of Cricket are always observed.

A team's score is reported in terms of the number of runs scored and the number of batsmen that have been dismissed. For example, if five batsmen are out and the team has scored 224 runs, they are said to have scored 224 for the loss of 5 wickets (commonly shortened to "224 for five" and written 224/5 or, in Australia, "five for 224" and 5/224).

When the bowler has bowled a no ball or a wide, his team incurs an additional penalty because that ball (i.e., delivery) has to be bowled again and hence the batting side has the opportunity to score more runs from this extra ball. The batsmen have to run (i.e., unless the ball goes to the boundary for four) to claim byes and leg byes but these only count towards the team total, not to the striker's individual total for which runs must be scored off the bat.

Amateur cricketers rarely play matches that last longer than a single day; these may loosely be divided into declaration matches, in which a specified maximum time or number of overs is assigned to the game in total and the teams swap roles only when the batting team is either completely dismissed or declares; and limited overs matches, in which a specified maximum number of overs is assigned for each team's innings individually. These will vary in length between 30 and 60 overs per side at the weekend and the ever-popular 20 over format during the evenings. Other forms of cricket, such as indoor cricket and garden cricket remain popular.

Hits for five are unusual and generally rely on the help of "overthrows" by a fielder returning the ball. If an odd number of runs is scored by the striker, the two batsmen have changed ends, and the one who was non-striker is now the striker. Only the striker can score individual runs, but all runs are added to the team's total.

A batsman may leave the field without being dismissed. If injured or taken ill the batsman may temporarily retire, and be replaced by the next batsman. This is recorded as retired hurt or retired ill. The retiring batsman is not out, and may resume the innings later if he recovers. An unimpaired batsman may retire, and this is treated as being dismissed retired out; no player is credited with the dismissal. Batsmen cannot be out bowled, caught, leg before wicket, stumped or hit wicket off a no ball. They cannot be out bowled, caught, leg before wicket, or hit the ball twice off a wide. Some of these modes of dismissal can occur without the bowler bowling a delivery. The batsman who is not on strike may be run out by the bowler if he leaves his crease before the bowler bowls, and a batsman can be out obstructing the field or retired out at any time. Timed out is, by its nature, a dismissal without a delivery. With all other modes of dismissal, only one batsman can be dismissed per ball bowled.

Batsmen come in to bat in a batting order, decided by the team captain usually after consulting the team coach, though the captain is not bound to consult the coach. The first two batsmen – the "openers" – usually face the hostile bowling from fresh fast bowlers with a new ball. The top batting positions are usually given to the most competent batsmen in the team, and the team's bowlers – who are typically, but not always, less skilled as batsmen – typically bat last. The pre-announced batting order is not mandatory; when a wicket falls any player who has not yet batted may be sent in next.

All the associate and affiliate members are not qualified to play Test Cricket, however ICC grants One Day International status to its associate and affiliate members based on their success in the World Cricket League. The top six teams will be awarded One day international and Twenty20 International status, which will allow the associate and affiliate teams to be eligible to play the full members and play official ODI cricket.

The bowler usually retreats a few yards (metres) behind the wicket, runs towards it (his run-up), and then releases the ball over-hand as he reaches the bowling crease. (If he crosses the crease before he releases the ball, or if he flexes his elbow too much in a throw, then it is a no ball, the batsman cannot be dismissed, and the batting team gets a penalty or extra run. If the ball passes the far wicket out of reach of the batsman then it is called a wide, also with an extra run.) The ball can be bowled so that it bounces on the pitch, lands exactly on the crease (a yorker), or crosses the crease without bouncing (a full toss).

The innings (ending with 's' in both singular and plural form) is the term used for the collective performance of the batting side. Sometimes all eleven members of the batting side take a turn to bat but, for various reasons, an innings can end before they have all done so. Depending on the type of match being played, each team has either one or two innings.

Cricket is played on a grassy field. The Laws of Cricket do not specify the size or shape of the field, but it is often oval. In the centre of the field is a rectangular strip, known as the pitch.

The game underwent major development in the 18th century. Betting played a key part in that development with rich patrons forming their own "select XIs". Cricket was prominent in London as early as 1707 and, in the middle years of the century, large crowds flocked to matches on the Artillery Ground in Finsbury. The single wicket form of the sport attracted huge crowds and wagers to match, its popularity peaking in the 1748 season. Bowling underwent an evolution around 1760 when bowlers began to pitch the ball instead of rolling or skimming it towards the batsman. This caused a revolution in bat design because, to deal with the bouncing ball, it was necessary to introduce the modern straight bat in place of the old "hockey stick" shape. The Hambledon Club was founded in the 1760s and, for the next twenty years until the formation of Marylebone Cricket Club (MCC) and the opening of Lord's Old Ground in 1787, Hambledon was both the game's greatest club and its focal point. MCC quickly became the sport's premier club and the custodian of the Laws of cricket. New Laws introduced in the latter part of the 18th century included the three stump wicket and leg before wicket (lbw).

The directions in which a right-handed batsman, facing down the page, intends to send the ball when playing various cricketing shots. The diagram for a left-handed batsman is a mirror image of this one.

There is a wide variety of shots played in cricket. The batsman's repertoire includes strokes named according to the style of swing and the direction aimed: e.g., "cut", "drive", "hook", "pull".

During the bowling action the elbow may be held at any angle and may bend further, but may not straighten out. If the elbow straightens illegally then the square-leg umpire may call no-ball: this is known as "throwing" or "chucking", and can be difficult to detect. The current laws allow a bowler to straighten his arm 15 degrees or less.

We use cookies to help make this website better, to improve our services and for advertising purposes. You can learn more about our use of cookies and change your browser settings in order to avoid cookies by clicking here. Otherwise, we'll assume you are OK to continue.

The two batsmen take positions at opposite ends of the pitch. One designated member of the fielding team, called the bowler, bowls the ball from one end of the pitch to the striking batsman at the other end. The batsman at the bowling end is called the non-striker, and stands to the side of his wicket, behind his crease. The batsman are allowed to step forward of their creases, though at some risk. Another member of the fielding team, the wicket keeper, is positioned behind the striker's wicket.

The bowler reaches his delivery stride by means of a "run-up", although some bowlers with a very slow delivery take no more than a couple of steps before bowling. A fast bowler needs momentum and takes quite a long run-up, running very fast as he does so.

The batsman tries to prevent the ball from hitting the wicket by striking the ball with his bat. (This includes the handle of the bat, and his gloves.) If the bowler succeeds in putting down the wicket the batsman is dismissed and is said to be bowled out. If the batsman misses the ball, but any part of his body prevents it from reaching the wicket, then he is out leg before wicket, or "LBW".

A team consists of eleven players. Depending on his or her primary skills, a player may be classified as a specialist batsman or bowler. A well-balanced team usually has five or six specialist batsmen and four or five specialist bowlers. Teams nearly always include a specialist wicket-keeper because of the importance of this fielding position. Each team is headed by a captain who is responsible for making tactical decisions such as determining the batting order, the placement of fielders and the rotation of bowlers.

Cricket cannot be played in wet weather. Dampness affects the bounce of the ball on the wicket and is a risk to all players involved in the game. Many grounds have facilities to cover the cricket pitch (or the wicket). Covers can be in the form of tarpaulins laid over the wicket, elevated covers on wheels (acting like an umbrella) or even hover covers which form an airtight seal around the wicket. However, most grounds do not have the facilities to cover the outfield. This means that in the event of heavy rain, a match may be cancelled, abandoned or suspended due to an unsafe outfield.

The match ends when all innings have been completed. The umpires can also call an end to the match in case of bad light or weather. But often the match ends immediately when one team to bat has completed its innings or both its innings, and the other team already has more runs. In four-innings games the last team may not even need to play its second innings: this team is said to win by an innings. If the winning team has not completed its last innings, and still has, for example, five batsmen who are not out or have not even batted, then they are said to "win by five wickets". If the last team to bat is all out and loses the match because it has say 50 fewer runs than the other team, then the winning team "wins by 50 runs". In the rare event that the two teams both complete their innings and they have the same number of runs, then it is a tie.

Standard limited overs cricket was introduced in England in the 1963 season in the form of a knockout cup contested by the first-class county clubs. In 1969, a national league competition was established. The concept was gradually introduced to the other leading cricket countries and the first limited overs international was played in 1971. In 1975, the first Cricket World Cup took place in England. Limited overs cricket has seen various innovations including the use of multi-coloured kit and floodlit matches using a white ball. A "one day match", named so because each match is scheduled for completion in a single day, is the common form of limited overs cricket played on an international level. In practice, matches sometimes continue on a second day if they have been interrupted or postponed by bad weather. The main objective of a limited overs match is to produce a definite result and so a conventional draw is not possible, but matches can be undecided if the scores are tied or if bad weather prevents a result. Each team plays one innings only and faces a limited number of overs, usually a maximum of 50. The Cricket World Cup is held in one day format and the last World Cup in 2015 was won by the co-hosts, Australia. The next World Cup will be hosted by England and Wales in 2019.